2019-2020
New School Year, New Initiatives – Keeping 'Love and Learning' alive
By Headmistress Ms.Chung
As the new school year commences, I would like to extend my warm welcome to you all after a relaxing summer. We start this year also with our focus on 'Love and Learning,' the theme of our 3-year plan, which not only shapes our opening ceremonies, but also shapes the way in which we embrace new students, colleagues and families, that is, with LOVE.
Many of them were curious to know why I had invited two famous cyclists, Mr. Hung Chung Yam and Mr. Wong Kam Po as our chief guests during the last academic year. Was it fortuitous? Not really! It was with a purpose. We can learn a lot from them. We have seen how these two cyclists have made wonderful achievements and set records using their bicycles. They put their effort on moving the two wheels forward in order to achieve their best. Similarly, we believe that our students can gain respect from others and results as good as Mr. Hung and Mr. Wong if they strive to take care of others and work hard. Indeed, 'Love and Learning' are like the two wheels on a bicycle which can help students to achieve great heights.
POCA Wan Ho Kan Primary School is much obliged to its dedicated teaching staff and caring parents, who share the same vision of providing whole-person education and a school atmosphere grounded in Love and Learning. For the benefit of our students, a range of academic and non-academic activities are being organized to echo the theme of the 3-year plan.
So, with our focus on 'Love and Learning,' let us all work hand in hand towards tapping students' potentials and in nurturing active, positive contributing members to our society.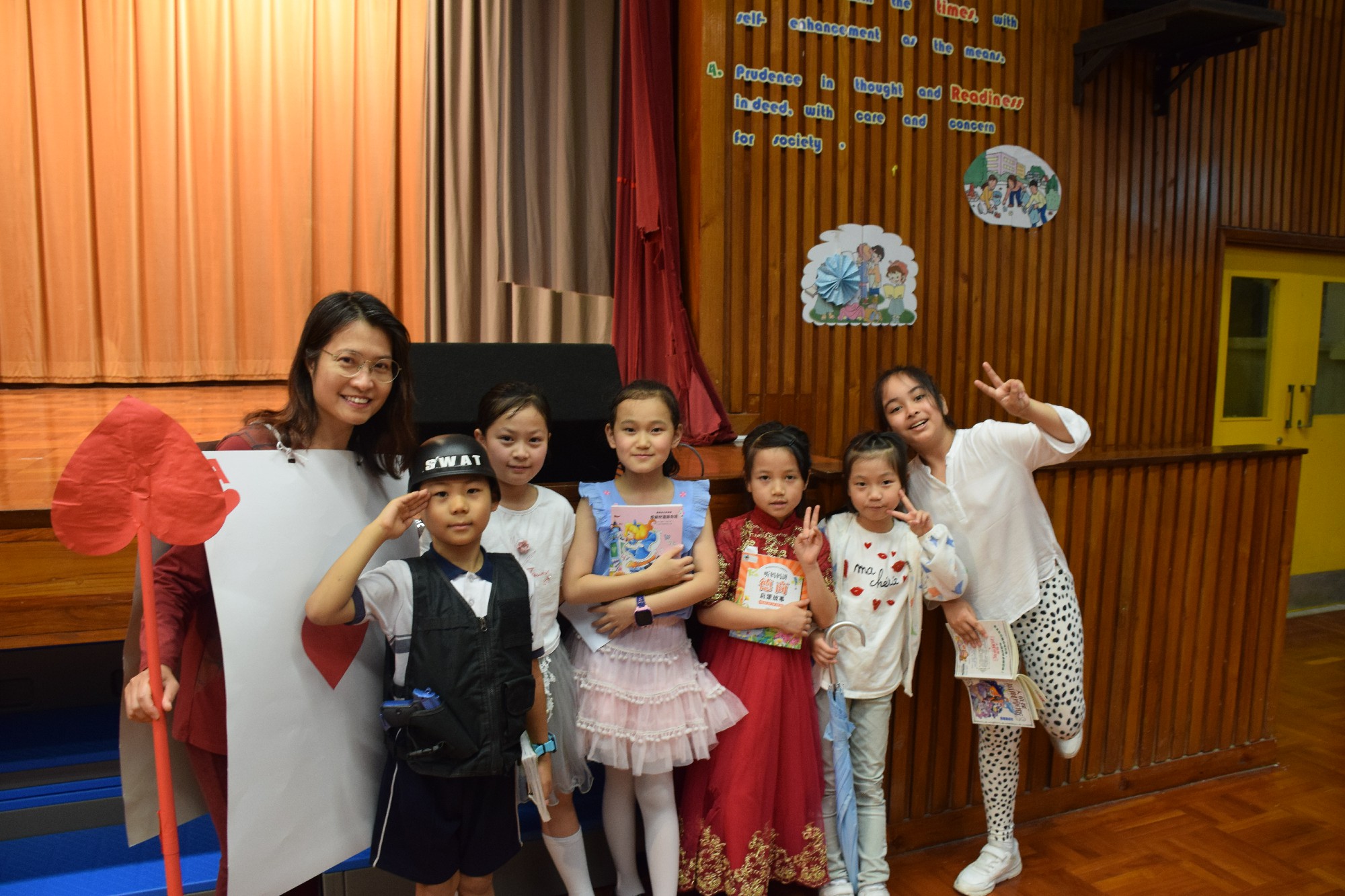 2018-2019
A New Start
By Ms. CHUNG
Headmistress of POCA Wan Ho Kan Primary School
Just as we have different phases in our lives, we have different phases in our careers too. I started as an 'Infant Principal', meaning to say I was new in this role without any experience two years ago. But now, I have crossed this infancy stage in my career and am ready for the next phase.
We have successfully established the last 3-year school plan and are getting ready for the next 3-year plan (2018-2021) which reminds me of a 'new' start. Looking back, I am grateful to all my staff who have put in tremendous effort and worked hard in providing the best environment and education for all our students.
Since we have a large number of students coming from various countries, we focus more on nurturing students respect to multi-culturalism. We organize Chinese Cultural Day every year to provide an opportunity for non-Chinese students to know more about Chinese traditions. Furthermore, mixing students from different ethnicities has been a successful approach for students to appreciate each other and to improve their communication skills in English, Cantonese and Putonghua. Moreover, they learn the art of supporting each other within and outside school.
In addition, our students are encouraged to participate in a great number of competitions in various subjects. Winning a competition is not our priority but we inculcate valuable attitudes like strengthening of will power and showing consistency in coping with success and failure among our students. We ensure every student has the necessary foundation to succeed by reinforcing the importance of perseverance and resilience. I do feel that teaching is a meaningful job as we witness progress and success in every child. I am proud to see the immense growth of our students in different areas.
Over the next three years, Po On Commercial Association Wan Ho Kan Primary School has many things to look forward to. We will continue in preparing ourselves in establishing 2Ls (Love and Learn) education which involves providing a loving and caring atmosphere and building a strong positive attitude to learning for our students.
I hope all our students are getting well-equipped to achieve their fullest potential in the coming year.
Let's work together for a new start and build a caring society around us.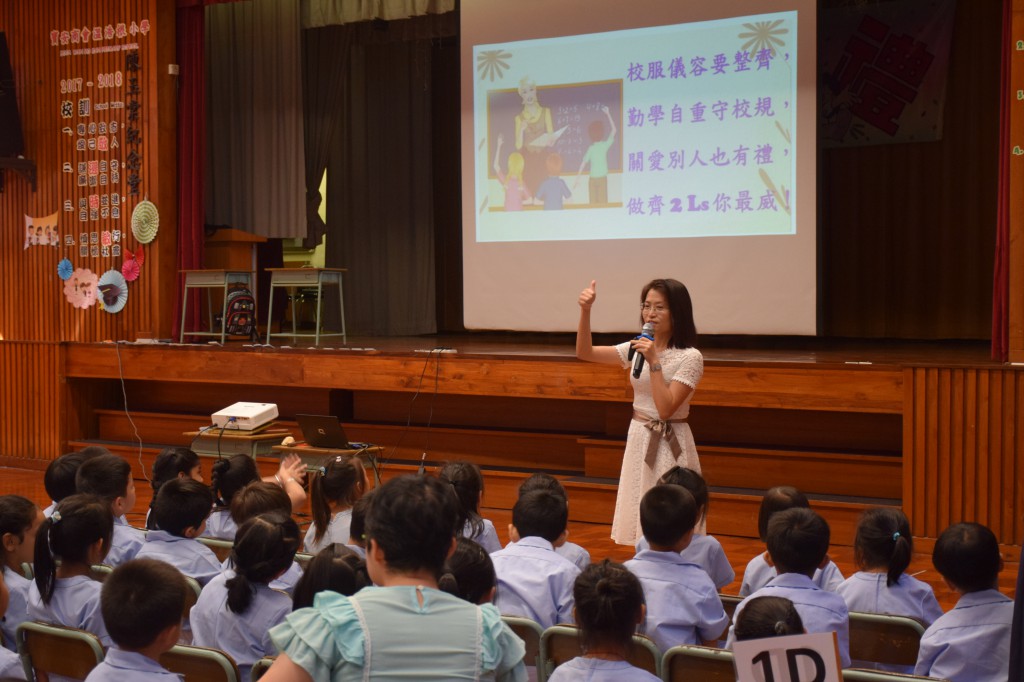 2017-2018
Thank you message
Ms. CHUNG Po-loi
I still recall how I felt when I was appointed headmistress of POCA Wan Ho Kan Primary School (WHK) last year. I was overwhelmed by a sense of honour, excitement and anticipation – today I am just as overwhelmed, if not more. It is indeed a privilege to have worked with the teachers and staff at WHK, where we have together weathered challenges and achieved milestones one after the other, from the 20th Anniversary Kick-off Ceremony, Chinese Culture Day Cum Poon Choi Banquet, Establishment of Alumni Association to the production of 20th Anniversary Drama, Smart kids from WHK Star, etc. These accomplishments would not have been possible without concerted efforts and unswerving support from all the teachers, parents and students. I am deeply grateful for the trust the IMC and each of you have placed in me and the unfailing support you have rendered me all along.
This year marks the 21st Anniversary of our school. For the past two decades, we have been offering students whole-person development. We foster academic excellence while emphasizing on the physical and aesthetic development of our students in order to help them become a healthy new generation. Besides, cultivating students' positive values and attitudes, developing a healthy lifestyle and positive belief in life are also among the goals of our school curriculum.
Having said that, I understand a lot more still needs to be done in fulfilling our mission and vision. As a young, thriving school with a primary focus on teacher professional development and students' needs, our school plays a very important role in nurturing our next generation. To this end, I invite and welcome your new ideas, invaluable inputs and active participation in our ongoing pursuit of excellence in the years to come.
2016-2017
The Headmistress' Message
Ms. CHUNG Po-loi
Our parents and students, I would like to send you my warmest regards. I am very pleased to join the big family of Po On Commercial Association Wan Ho Kan Primary School. By attending the 19th graduation ceremony, I enjoyed the opportunity of having the first close encounter with the young masters of our school. I am aware of the fact that our school can nurture students to become versatile and brave to attempt. I am very honored and grateful to be the third headmistress of the school and to extend the services of my predecessors, Mr Lee Shek Man and Ms Louie Po Sheung.
Students are the future masters of our society and now also the young masters of our school. That is why education should cater for students' needs. What is "student-centered education"? It means we believe in their gifts and provide them a free, diversified and fair learning environment to develop their potential. Moreover, if we can realize the learning motto of WHKPS(Wan Ho Kan Primary School), the effect of learning and teaching will be surprising!
Wish ─ We need to have wishes, not to give up or retreat easily. As teachers, we have expectations of our students. We nurture them with our heart and make their potential flourish.
Humility ─ There is one idiom saying, "Apart from hard work, a successful person should show humility as well". That is why we have "Humility" in our school motto, which means the adoption of humility as a sort of self-discipline and honesty as our guiding principle.
Knowledge ─ Knowledge is the torch of wisdom and we should be devoted to knowledge and truth.
Prudence ─ Prudence in thoughts and readiness in deeds is a good attitude for study and work. If we act prudently in the community, the idea of our school motto─"Prudence in thought and readiness in deed, with care and concern for society" can be realized.
Self-enhancement ─Even in adversity, you may keep up and advance with times in order to become a strong person. That is what "times" in our school motto hints.
Education is a career relating to the cultivation of children's life and it is a time-consuming but meaningful project. To make dreams come true, apart from the required courage and perseverance, we still need the support of every party for development and success. I sincerely wish that all our colleagues and parents can work together to create a better learning environment for our next generation. We have to uphold our school motto "Respect, Humility, Progress and Sensitivity" for equipping our children to be the future masters of our society.