2022-2023
Message from the Principal Mr. Lui
It is my greatest honour to be appointed as the 4th principal of Po On Commercial Association Wan Ho Kan Primary School. Our pupils inspire and motivate me with their diversity, their hard work, their ambition and their achievement.
It is believed that each child is unique and has tremendous potential, we attach great important to the development of every student. In particular, we explore their strengths and release their untapped potential, by offering various learning activities and learning experiences, thereby enhancing their self-discipline, team spirit, and broadening their horizons.
We also strive in promoting learning inside and outside of the classroom. Our students enjoy coming to school and participating in all the activities at school. We strongly believe a happy child learns best. So, we encourage our students to seek opportunities to learn and gain new skills. These opportunities are presented through our curriculum and self directed learning. Furthermore, we are committed to equipping our pupils with the 21st century learning skills (4C's: critical thinking, creative thinking, communicating, and collaborating) which are vital to success in school and beyond.
Although POCAWHK primary school is still on a learning journey, we make great efforts every day to make it a better place for our students.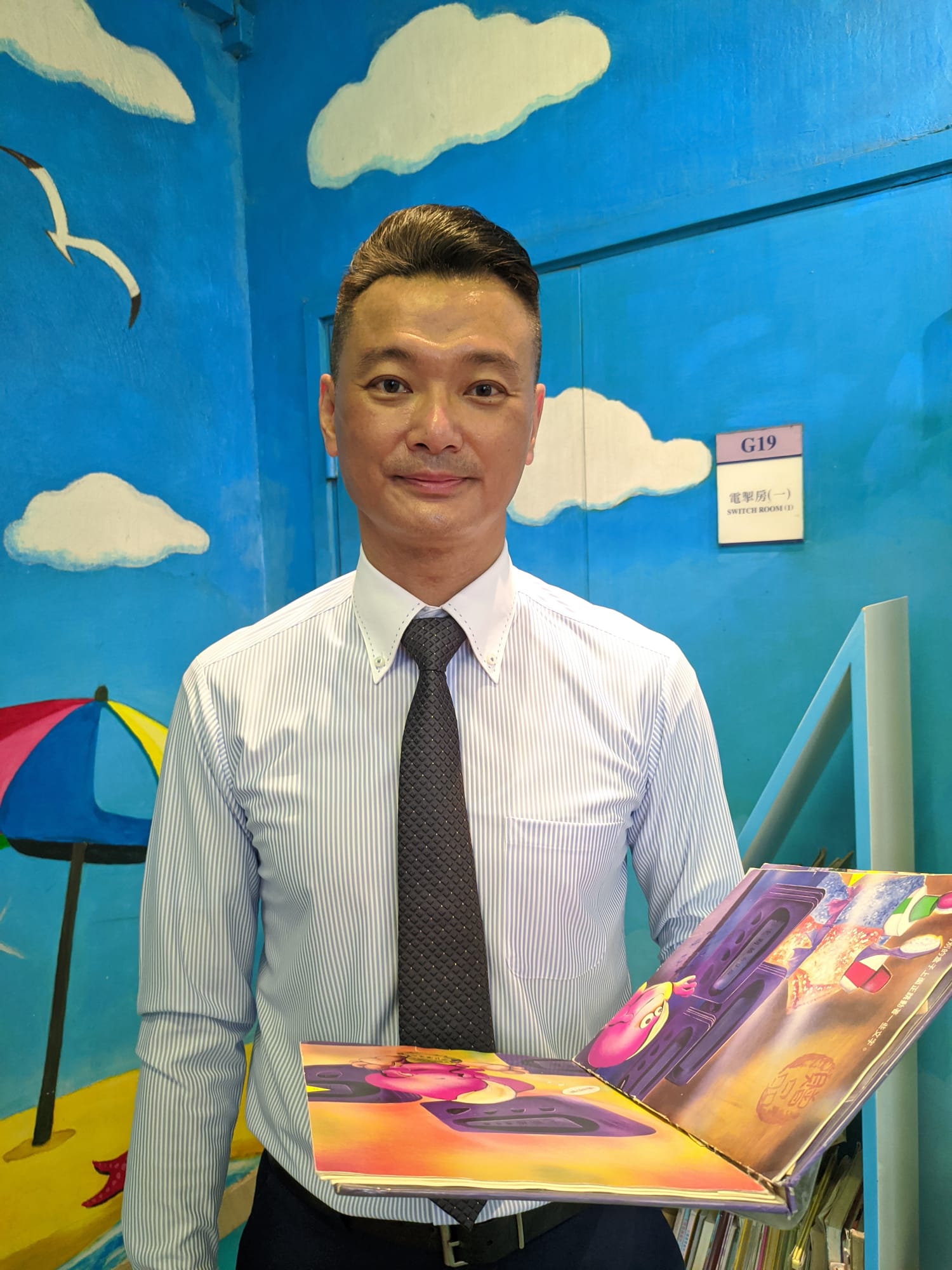 Lui Kam Keung 中文
2021-2022
Three Cheers to POCAWHK School
Principal CHUNG Po-loi
In the blink of an eye, POCA Wan Ho Kan Primary School has completed its 25-year milestone standing steadfast in Fu Tung Estate, Tung Chung. The accumulated efforts of the school's founders, supervisors, principals and teachers have helped generation upon generation of students to develop their talents and contribute to society. Their efforts have laid a good foundation for our school.
I have been fortunate to join the Wan Ho Kan family as the third principal since 2016 and receive the support from the incorporated management committee (IMC). With the support of IMC, I have been able to uphold our school's motto "Respect, Humility, Progress and Sensitivity" in leading our school.
In order to address and adapt to the changing society and education policies, a series of reforms including campus renovations and additions were made thereby providing our students a better and more comfortable learning environment. Furthermore, fine-tuning the medium of instruction (MOI) for Mathematics and General Studies and providing school-based curriculum according to various students' needs reflect the schools' resolve to move with the times and to nurture students with a global perspective that can meet the challenges of the 21st century.
Our school is blessed with a team of teachers who are ready to make changes and invest their time and efforts in students. Together with the support from parents, the school has been able to leapfrog in its goals to impart a positive system of values on young lives thereby equipping our children to be the future masters of our society.
Over the past 25 years, each school stakeholder has put a lot of efforts in the interest of our school. I hope we can continue to cooperate and shoulder the responsibility of nurturing young minds and cultivating their autonomous learning ability.
Let's focus towards educational parity, believing in the potential of every child. From a local view to a global outlook, with horizons and perspectives widening at an unprecedented pace, and with a deep commitment to serving, our extraordinary students and faculty form a wonderful community that is truly inclusive in vision, diverse in composition and reflective of our world. 中文
2021-2022
Chinese New Year Greeting
This is yet another year when we are forced to greet you all remotely on the occasion of Chinese New Year. Unlike the usual practice, we have chosen to send you a video greeting using some catchy cartoon characters in our school uniform which may be appealing. The primary reason to have used the cartoon characters instead of our own students in the video, is that we have not been able to capture the bright beautiful smiling faces of our students without the masks, in any of the occasions in the past two years.
At this juncture, we would like to recall the colourful Chinese New Year activities that we used to have at school prior to the pandemic. The photos and the videos taken during that time are a testimony to the happy times experienced both by students and teachers in an inclusive atmosphere at school.
In the video, you can see the cartoon characters holding the 'Fai Chun' with the message "Wishing you success in your studies." This represents our students wishing each other with love. I am sure that all our students want to be successful in their studies. Would you like to know the tips for getting a good academic result in the coming year?
Well, the tip is hidden in this message. "Develop good learning habits, reinforce perseverance." This means that we must be interested in learning and cultivate positive learning attitudes with a never-give-up spirit. This year, each of you have got a 'I am a Smart Learner' booklet that has some great tips and strategies for better learning. I wish you all practise those tips and become high achievers.
Let's do our best together! Hurray!
2021-2022
Commemorate our Silver Jubilee Anniversary with Athletic Spirit
This year marks the Silver Jubilee Anniversary of POCA Wan Ho Kan Primary School. We have been providing quality education by dedicating to our school motto - "Reverence, Humility, Persistence and Earnestness" to develop students' potential, generic skills, proper learning attitude and cultivate their positive mindset.
Over the past 25 years, while there were many delightful moments, we also encountered difficulties. We overcame them one by one with faith and courage. However, the performances of the disabled athletes in the recent Paralympic Games reminds us that we must be more industrious and work with a "never-give-up" spirit. As the new school year commences, I would like to encourage all students to persistently improve upon themselves.
From dragging oneself out of the trough, to snatching victory from the jaws of defeat, multiple times in international competitions, the disabled athletes have created inspirational stories. Therefore, I would like to share a video about the disabled athletes who can inspire our students to face challenges or difficulties confidently by adopting mindset changes. I hope all students realise the importance of perseverance rather than giving up and waving the white flag easily.
Excerpts from: https://www.youtube.com/watch?app=desktop&v=zZ5zlpb8gJE
To commemorate this special occasion, let us resolve to adhere to the indomitable fighting spirit and fight with greater gusto like our athletes. We, as a school shall continue to focus our efforts in enhancing the quality of learning and teaching, provide additional educational equipment to create a joyful learning atmosphere and constantly work on improving the campus facilities.
2020-2021
Online Lunar New Year Assembly
Wish you all a joyful 2021
By Headmistress Ms. CHUNG
Although this year's Lunar New Year could not be celebrated at school with you all, we made it happen virtually on the fourth day of the festival. It was quite refreshing for us to sing the New Year song in Putonghua and English with our students. We also had fun playing games related to the Chinese culture(https://bit.ly/3aAtRuq). I could see the excitement among students and parents to win the New Year gifts.
While wishing you all a joyful 2021, I wish to reiterate here what I had shared at the online assembly regarding "SMILE." As you are aware, smiling is a superpower that not only elevates a person's mood but also changes other's moods and makes a place happier. According to me, the word 'SMILE' is an acronym for the five strategies namely Share, Mind, Inclusion, Learn and Enjoy that we should practise every day to keep away darkness from our lives.
Let me explain them in detail.
Share: Share Care and Love
Nowadays, we do not have many opportunities for face-to-face interactions, but we can still express our love and care by sharing our feelings remotely with family members and friends through electronic devices. This enables us to remain connected and support each other.
Mind: Think positively and keep away from negative thoughts
We should strive to think and act positively during these trying times. It is very important for us to accept changes and adapt to the situation. For instance, instead of thinking negatively owing to the pandemic, we can use the new learning opportunities created for us during this unexpected period of class suspension. Therefore, we must make the best use of e-learning and spend time to develop our self-directed learning skills.
Inclusion: Being sensitive to the feelings and needs of others
By interacting harmoniously with others, we can be sensitive to their feelings and needs. I wish to recall the story of the movie I shared with you at the assembly about Thomas, an untidy boy. In this movie, his best friend having concern and care for Thomas teaches him to keep things tidy. The core message of this film relates to one of our school's major concerns, that is LOVE.
Excerpts from:
https://m.youtube.com/watch?v=JcYlu3SNoUg
Learn: Developing autonomous learning habits
Staying at home during the pandemic has taught us to learn and discover new interests. This is best time to develop autonomous learning habits. Reading is one of the habits that can be developed by all students conveniently at home, using our school's e-library.
To nurture autonomous learning habits among our students, our teachers had made and shared a self-learning film on how to make a toy based on the principle of friction. Students were also encouraged to create and make their own toys and participate in the Toy Design Competition.
Enjoy: Enjoy spending time with your family
The pandemic has also allowed us to spend more time on extra-curricular activities with our family. Such activities while activating our mind and body also help our students to stay focused on their academic work.
While signing off, I wish all members of the POCA family to remain smiling in 2021 by practising the above strategies regularly.
Let us keep the adversity at bay by staying optimistic!
2020-2021
2020 Christmas - Time to Reflect, Share and Care
By Headmistress Ms. CHUNG
It is now December and the Christmas and New Year holidays are upon us. These holidays should be a time for everyone to be cheerful and full of joy. But the fourth wave of infection has struck us badly and the city is in dire straits facing the pandemic. The situation is even worse than that of the previous waves of infection and the usual festive mood is quite unlikely this Christmas.
Notwithstanding the unpredictable effects of the pandemic making us feel helpless and hopeless, we should be optimistic and not let it dampen our spirits. Rather we should be more caring and sharing with love during this festive season. I recently watched a nice film related to Christmas on YouTube channel which I would like to share with all of you during this festival season with love.
https://www.youtube.com/watch?v=ChJWGUlONms
The film is about a hedgehog with many sharp spines on its back. His sharp spines always cause trouble to him and his friends which makes him feel helpless and hopeless. However, the ending of the film is very touching because other animals do not leave the hedgehog alone or ignore him. They not only accept the hedgehog's weakness, but also help him to adapt to the school life.
This film reminds us that accepting others' weaknesses and making small changes can help us solve problems. It can help someone become more independent and positive rather than feeling helpless and hopeless. Moreover, the core message of this film is related to one of our school's major concerns which is LOVE.
Let us learn to be lenient to others like the hedgehog's friends. Let us show our love to others during this Christmas season and have a joyful new year ahead.
2020-2021
Welcome to the New Normal
By Headmistress Ms. CHUNG
September is normally a time when students are back to school after a restful summer break. However, we had an unusual start this year due to the pandemic. Just like other schools in the city, we also resorted to online teaching and learning from the beginning of the new academic year encouraging students to stay and learn from home. Since the government has now approved the phased resumption of face- to- face classes, we look forward to meeting our students soon at school.
Given the unpredictable nature of the pandemic there is no guarantee that face-to-face lessons may stabilize soon. Furthermore, many of our school students are held up in different countries and may not be back to school in time. Therefore, online teaching seems to be unavoidable and shall be continued in the interest of all our students. Our teachers are putting in a lot of effort preparing for online teaching which is on par with regular teaching.
However, since online learning for prolonged periods is not conducive for the physical and mental development of students, we encourage students to physically attend school. By attending school, students not only acquire basic knowledge but also learn to socialize and strengthen the bond of friendship which cannot be acquired through online learning. Hence, we expect school resumption should enable the students to display the following traits.
1. Able to manage their emotions
2. Interact harmoniously with peers
3. Show interest in learning activities
Additionally, the above traits match the 2 L's (Love + Learning) which are major concerns of our annual plan. The first 'L' (Love) is achieved when students learn to manage their emotions and interact harmoniously with their peers. The second 'L' (Learning) is achieved when students show interest in activities and enjoy the learning process.
Let us all strive to accomplish our objectives of this year.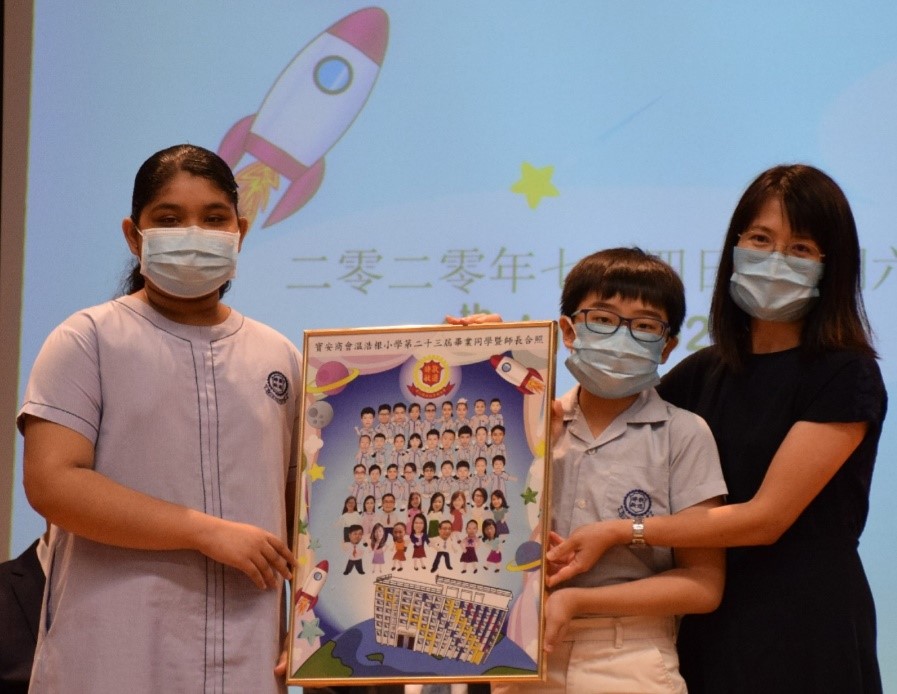 2019-2020
Battling the Epidemic
By Headmistress Ms. Chung
We all know that water exists in 3 states and do you know we also can exist in 3 antiviral states! Are you wondering what I am talking about? Interestingly, the 3 antiviral states share the same pronunciation in Cantonese as the three states of water but differ greatly in meaning from them.
Have you got the words in mind? Well, the three battling states against the epidemic are Notion, Attitude and Parenting skill. I would like to share my thoughts on them in detail and how they can be implemented in this difficult time.
'Notion' refers to the beliefs and habits that we have developed and how we can continue to practice them even now while we are at home.
1. Taking care of elders: We can continue to care for them, also during the stay at home period by talking to them on phone or computer and making unique cards for them. Please encourage your children to talk to their grandparents often so that they would not miss each other.
2. Appreciate others: Many front-line medical workers who work tirelessly are prone to stress and anxiety. Would it not be a great idea to write thank you cards to these people? You may encourage your children to make thank you cards or write letters to express their thankfulness to our medical workers. You can send the letters and cards to school and we will in turn ensure that the letters and cards reach the concerned people. Our children need not stop there. They can also make cards for you parents, who are balancing work and home and to cleaners who maintain and keep the common facilities clean.
3. Doing chores: It is essential to keep our houses clean and hygienic at this critical time. Children can be encouraged to do some housework according to their ability. Please ensure that you appreciate them at all times.
4. Reading habit: Although we cannot visit the library during this time, our students can continue nurturing their reading habits at home by accessing our school website where we have a good collection of both Chinese and English books. Alternatively, you may also use the Microsoft Teams platform to access many reading materials with follow up worksheets.
The second state of battling the epidemic is 'Attitude.' It is basically overcoming adversity with resilience. Dr. Cheng of EDUHK points out that we should nurture children's self-efficacy and multi-dimensional perspectives in order to enhance resilience in them.
1. Self-efficacy: Self-efficacy is an indicator of how strongly one believes in one's personal ability to complete a certain task successfully. It determines activities such as maintaining personal hygiene and making a time table for oneself. Basic research has shown that increase in perceived self-efficacy can enhance extinction of fear. (Zlomuzica et.al., 2015)
2. Multi-dimensional perspective: Multi-dimensional perspective is a kind of thinking mode and refers to an understanding of the consequences of adversity for individuals, families and communities and needs to incorporate the possibilities of both adaptation and maladaptation. Resilience can be enhanced if children were trained to think multidimensionally and have concern for others' needs.
The third state is the 'Parenting skill.' It is a skill that can help you solve a problem with your child without being angry. It is important for you to pay attention to the following two points.
1. Control your emotion: Emotion is powerful and your mood determines how you interact with people. Therefore, we should calm down ourselves at once when we face any of our children's problem or when you are in a tense conversation with your child.
2. Empathetic listening: Empathetic listening is all about really understanding the person who is talking to you. That means it goes beyond active listening and deep into the zone of non-judging and empathy.
While we wish to be epidemic free soon, I hope we can work on these three states in battling the epidemic. It is in fact, 'LOVE' that helps us to overcome obstacles and fight the virus away.
Reference:
Zlomuzica A, Preusser F, Schneider S, Margraf J. Increased perceived self-efficacy facilitates the extinction of fear in healthy participants. Front Behav Neurosci. 2015 Oct 16;9:270. doi: 10.3389/fnbeh.2015.00270. eCollection 2015.
2019-2020
Overcoming the Epidemic
By Headmistress Ms.Chung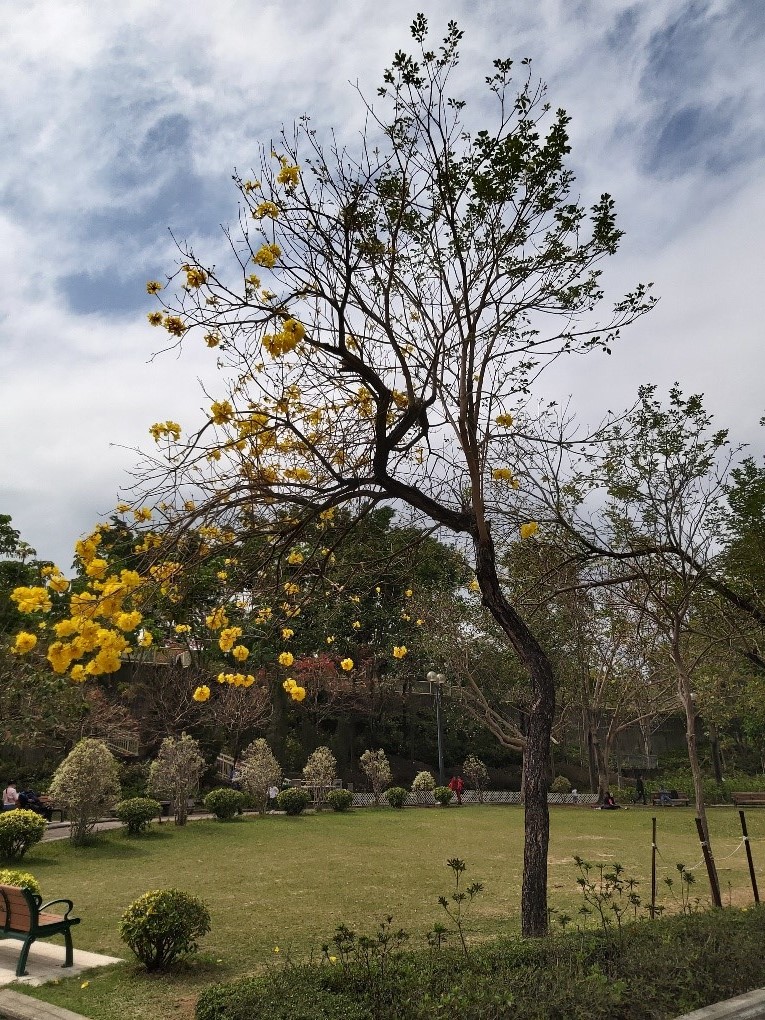 I was delighted to see the strong green Tabebuia Chrysotricha trees back in Nabchong Park recently. These trees nearly disappeared over the past year and a half since the typhoon Mangkhut hit Hong Kong and I dearly missed the beautiful sight of the yellow flowers on these trees last season. I thought I might not see that beautiful sight anymore. But to the contrary, I find that these trees have borne some buds and some yellow blossoms on them. This gives me a reassurance that I will see a sea of these golden yellow flowers soon.
Now, let's think of us. Currently our classes are suspended due to the spread of COVID -19 epidemic and many are facing a difficult time. At this time of adversity, let's introspect ourselves and adopt the spirit of 'love others & love learning ' in order to blossom like the yellow flowered trees. Let us learn how to care for people around us, including their health and emotions.
While it is important to care for people around us at this trying time, it is also important to cultivate the attitude of 'love learning' in us. During this period of class suspension, our attitude of 'love learning' is key as otherwise the goal of 'suspending classes but not suspending learning' cannot be achieved and the learning progress may fall back.
In the past, you might have taken classes for granted and might not have also thought how to learn continually without teachers in person. However,
in order to facilitate your continued self-learning at home teachers are providing you with learning materials, online resources and worksheets on a regular basis. In fact, we encourage you to learn using the materials that are being provided to you and go even further to learn more by searching for information by yourself. If you take such an initiative in learning you can easily achieve the goal of 'love learning'. Therefore through 'love others and love learning' attitude we can withstand the test of time, overcome this epidemic and blossom like the Tabebuia Chrysotricha trees.
2019-2020
New School Year, New Initiatives – Keeping 'Love and Learning' alive
By Headmistress Ms.Chung
As the new school year commences, I would like to extend my warm welcome to you all after a relaxing summer. We start this year also with our focus on 'Love and Learning,' the theme of our 3-year plan, which not only shapes our opening ceremonies, but also shapes the way in which we embrace new students, colleagues and families, that is, with LOVE.
Many of them were curious to know why I had invited two famous cyclists, Mr. Hung Chung Yam and Mr. Wong Kam Po as our chief guests during the last academic year. Was it fortuitous? Not really! It was with a purpose. We can learn a lot from them. We have seen how these two cyclists have made wonderful achievements and set records using their bicycles. They put their effort on moving the two wheels forward in order to achieve their best. Similarly, we believe that our students can gain respect from others and results as good as Mr. Hung and Mr. Wong if they strive to take care of others and work hard. Indeed, 'Love and Learning' are like the two wheels on a bicycle which can help students to achieve great heights.
POCA Wan Ho Kan Primary School is much obliged to its dedicated teaching staff and caring parents, who share the same vision of providing whole-person education and a school atmosphere grounded in Love and Learning. For the benefit of our students, a range of academic and non-academic activities are being organized to echo the theme of the 3-year plan.
So, with our focus on 'Love and Learning,' let us all work hand in hand towards tapping students' potentials and in nurturing active, positive contributing members to our society.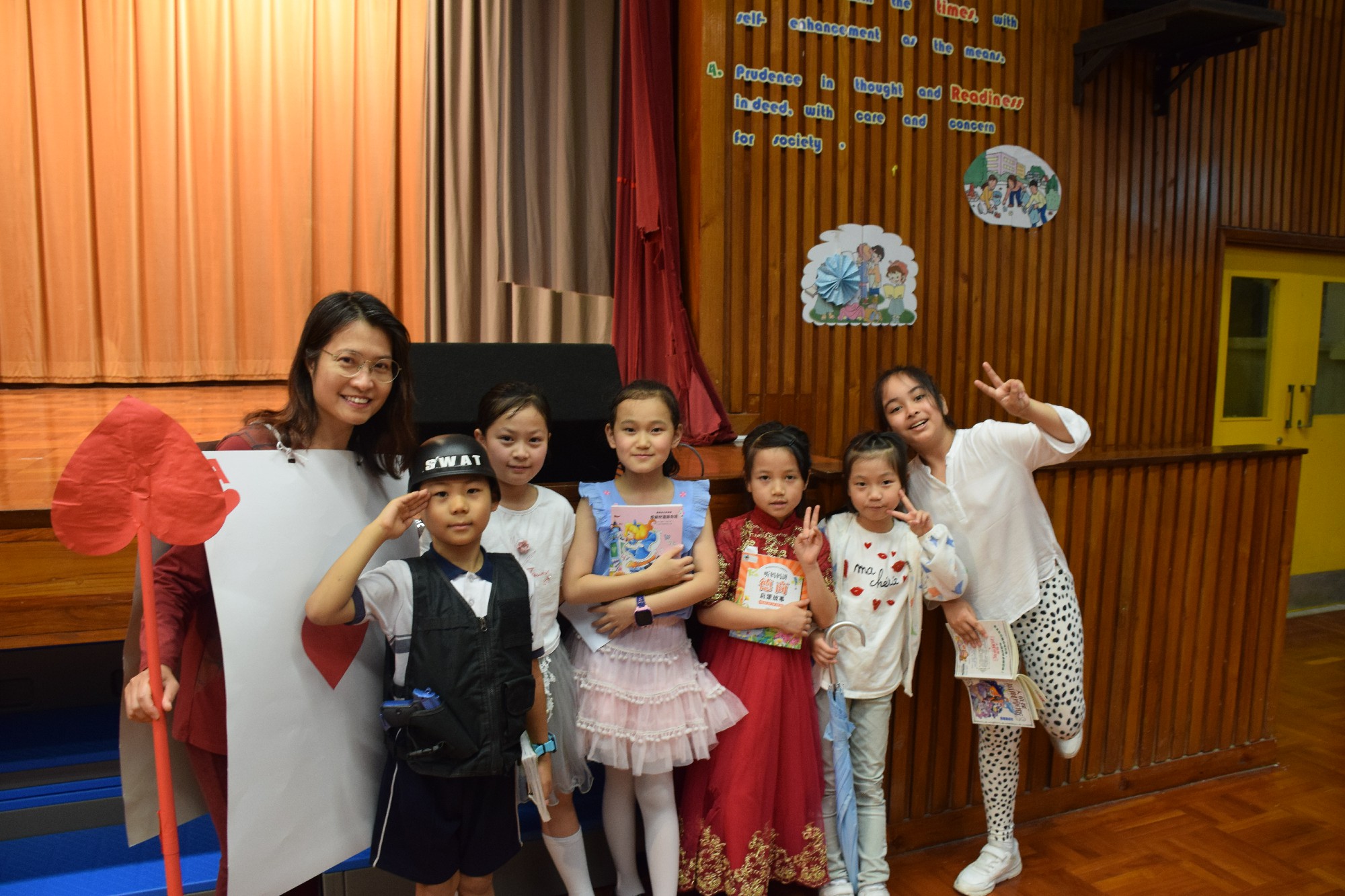 2018-2019
A New Start
By Ms. CHUNG
Headmistress of POCA Wan Ho Kan Primary School
Just as we have different phases in our lives, we have different phases in our careers too. I started as an 'Infant Principal', meaning to say I was new in this role without any experience two years ago. But now, I have crossed this infancy stage in my career and am ready for the next phase.
We have successfully established the last 3-year school plan and are getting ready for the next 3-year plan (2018-2021) which reminds me of a 'new' start. Looking back, I am grateful to all my staff who have put in tremendous effort and worked hard in providing the best environment and education for all our students.
Since we have a large number of students coming from various countries, we focus more on nurturing students respect to multi-culturalism. We organize Chinese Cultural Day every year to provide an opportunity for non-Chinese students to know more about Chinese traditions. Furthermore, mixing students from different ethnicities has been a successful approach for students to appreciate each other and to improve their communication skills in English, Cantonese and Putonghua. Moreover, they learn the art of supporting each other within and outside school.
In addition, our students are encouraged to participate in a great number of competitions in various subjects. Winning a competition is not our priority but we inculcate valuable attitudes like strengthening of will power and showing consistency in coping with success and failure among our students. We ensure every student has the necessary foundation to succeed by reinforcing the importance of perseverance and resilience. I do feel that teaching is a meaningful job as we witness progress and success in every child. I am proud to see the immense growth of our students in different areas.
Over the next three years, Po On Commercial Association Wan Ho Kan Primary School has many things to look forward to. We will continue in preparing ourselves in establishing 2Ls (Love and Learn) education which involves providing a loving and caring atmosphere and building a strong positive attitude to learning for our students.
I hope all our students are getting well-equipped to achieve their fullest potential in the coming year.
Let's work together for a new start and build a caring society around us.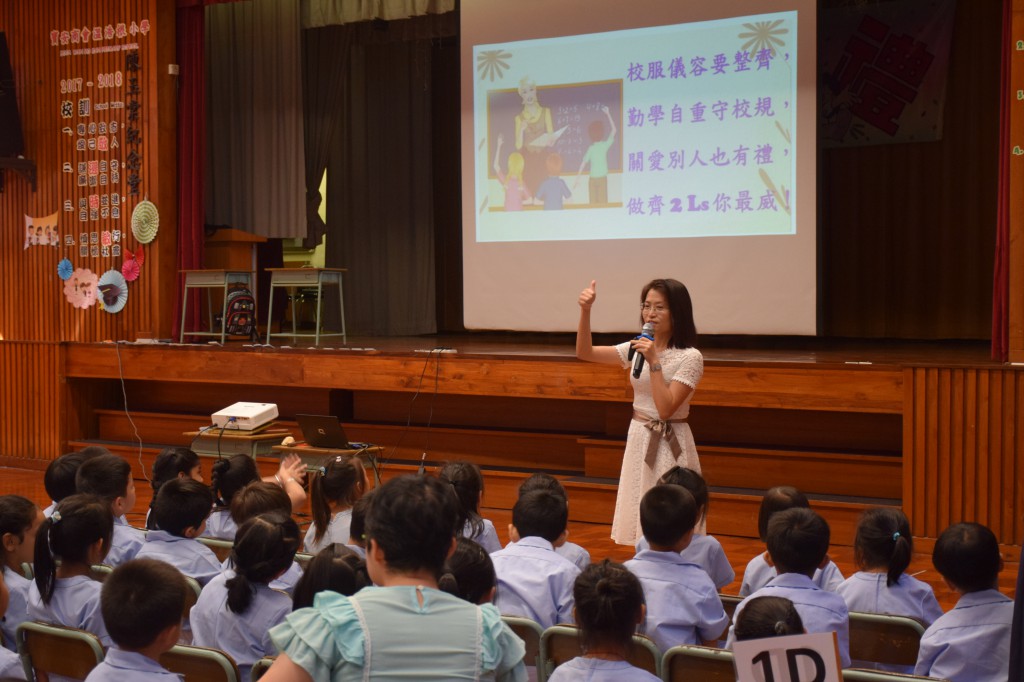 2017-2018
Thank you message
Ms. CHUNG Po-loi
I still recall how I felt when I was appointed headmistress of POCA Wan Ho Kan Primary School (WHK) last year. I was overwhelmed by a sense of honour, excitement and anticipation – today I am just as overwhelmed, if not more. It is indeed a privilege to have worked with the teachers and staff at WHK, where we have together weathered challenges and achieved milestones one after the other, from the 20th Anniversary Kick-off Ceremony, Chinese Culture Day Cum Poon Choi Banquet, Establishment of Alumni Association to the production of 20th Anniversary Drama, Smart kids from WHK Star, etc. These accomplishments would not have been possible without concerted efforts and unswerving support from all the teachers, parents and students. I am deeply grateful for the trust the IMC and each of you have placed in me and the unfailing support you have rendered me all along.
This year marks the 21st Anniversary of our school. For the past two decades, we have been offering students whole-person development. We foster academic excellence while emphasizing on the physical and aesthetic development of our students in order to help them become a healthy new generation. Besides, cultivating students' positive values and attitudes, developing a healthy lifestyle and positive belief in life are also among the goals of our school curriculum.
Having said that, I understand a lot more still needs to be done in fulfilling our mission and vision. As a young, thriving school with a primary focus on teacher professional development and students' needs, our school plays a very important role in nurturing our next generation. To this end, I invite and welcome your new ideas, invaluable inputs and active participation in our ongoing pursuit of excellence in the years to come.
2016-2017
The Headmistress' Message
Ms. CHUNG Po-loi
Our parents and students, I would like to send you my warmest regards. I am very pleased to join the big family of Po On Commercial Association Wan Ho Kan Primary School. By attending the 19th graduation ceremony, I enjoyed the opportunity of having the first close encounter with the young masters of our school. I am aware of the fact that our school can nurture students to become versatile and brave to attempt. I am very honored and grateful to be the third headmistress of the school and to extend the services of my predecessors, Mr Lee Shek Man and Ms Louie Po Sheung.
Students are the future masters of our society and now also the young masters of our school. That is why education should cater for students' needs. What is "student-centered education"? It means we believe in their gifts and provide them a free, diversified and fair learning environment to develop their potential. Moreover, if we can realize the learning motto of WHKPS(Wan Ho Kan Primary School), the effect of learning and teaching will be surprising!
Wish ─ We need to have wishes, not to give up or retreat easily. As teachers, we have expectations of our students. We nurture them with our heart and make their potential flourish.
Humility ─ There is one idiom saying, "Apart from hard work, a successful person should show humility as well". That is why we have "Humility" in our school motto, which means the adoption of humility as a sort of self-discipline and honesty as our guiding principle.
Knowledge ─ Knowledge is the torch of wisdom and we should be devoted to knowledge and truth.
Prudence ─ Prudence in thoughts and readiness in deeds is a good attitude for study and work. If we act prudently in the community, the idea of our school motto─"Prudence in thought and readiness in deed, with care and concern for society" can be realized.
Self-enhancement ─Even in adversity, you may keep up and advance with times in order to become a strong person. That is what "times" in our school motto hints.
Education is a career relating to the cultivation of children's life and it is a time-consuming but meaningful project. To make dreams come true, apart from the required courage and perseverance, we still need the support of every party for development and success. I sincerely wish that all our colleagues and parents can work together to create a better learning environment for our next generation. We have to uphold our school motto "Respect, Humility, Progress and Sensitivity" for equipping our children to be the future masters of our society.